Click here for the whole video! 
We help you learn English outside of the classroom!   Heartland strives to provide our students with unique and enriching experiences in the city they are learning in.   We arrange weekly activities, allowing students to practice their English skills with Canadians in fun and practical situations, and to explore their new city. We work hard to provide our students with a wide range of activities that cover areas such as sports, tours, events, recreational, cultural, social, arts and history.   Heartland's staff is also up to date on what is happening in Winnipeg and Mississauga, such as concerts, festivals, football games, baseball games or a Winnipeg Jets hockey game! There is always something going on! Winnipeg is a great city to explore. There are year-round festivals, art galleries, museums, theatres, amateur and professional sports, and much, much more.   Currently while we are offering our courses online, we are continuing to provide culturally enriching
activities online
!  
Did you know that Heartlanders can dance?! We had Ana from Salsa Explosion Dance Academy…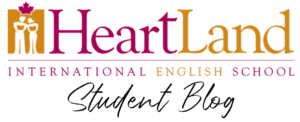 The stories you will read in the Student Blog are written by students from all walks of life. We hope our blog becomes a place for you, current and former Heartland students, to stay connected to your Heartland family!
Heartland Winnipeg
Heartland Mississauga