Heartland Online Activities
The Heartland English experience is now fully online for our students!
Our teachers are delivering the entire curriculum in the same number of hours per week in a live and interactive online platform.  To make sure that our students are also still getting the high value Canadian cultural component, we are bringing these experiences online too!
See what is coming up in our calendar on Friday afternoons!
---
Previous Activities:
WINNIPEG & MISSISSAUGA – A virtual tour of Ripley's Aquarium of Canada! Students and staff enjoyed a tour of the Aquarium to see some of the amazing marine life.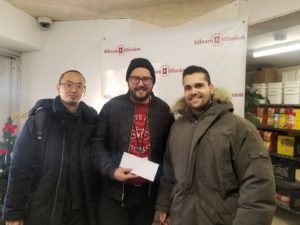 WINNIPEG – Siloam Mission is a place for support, healing and recovery which offers services for people experiencing poverty and homelessness. Using an individualized approach with each person who walks through the doors, the staff and volunteers at Siloam offer a drop-in centre for a meal or safe place to sleep, and supports in recovery and transition for people looking to regain a meaningful and fulfilling life that we all deserve. Paul joined us Friday afternoon to present the many different roles Siloam Mission plays in the effort to end homelessness in Winnipeg.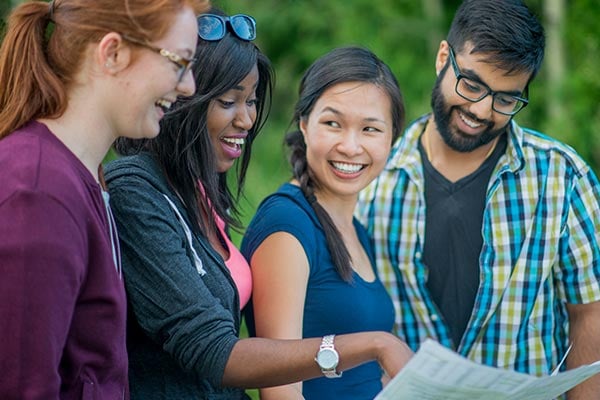 MISSISSAUGA – Nature Scavenger Hunt! Heartland Mississauga students participated in a walk around their neighbourhood to find items on a master list, snap a pic and the first one back to the Zoom meeting with the most items won!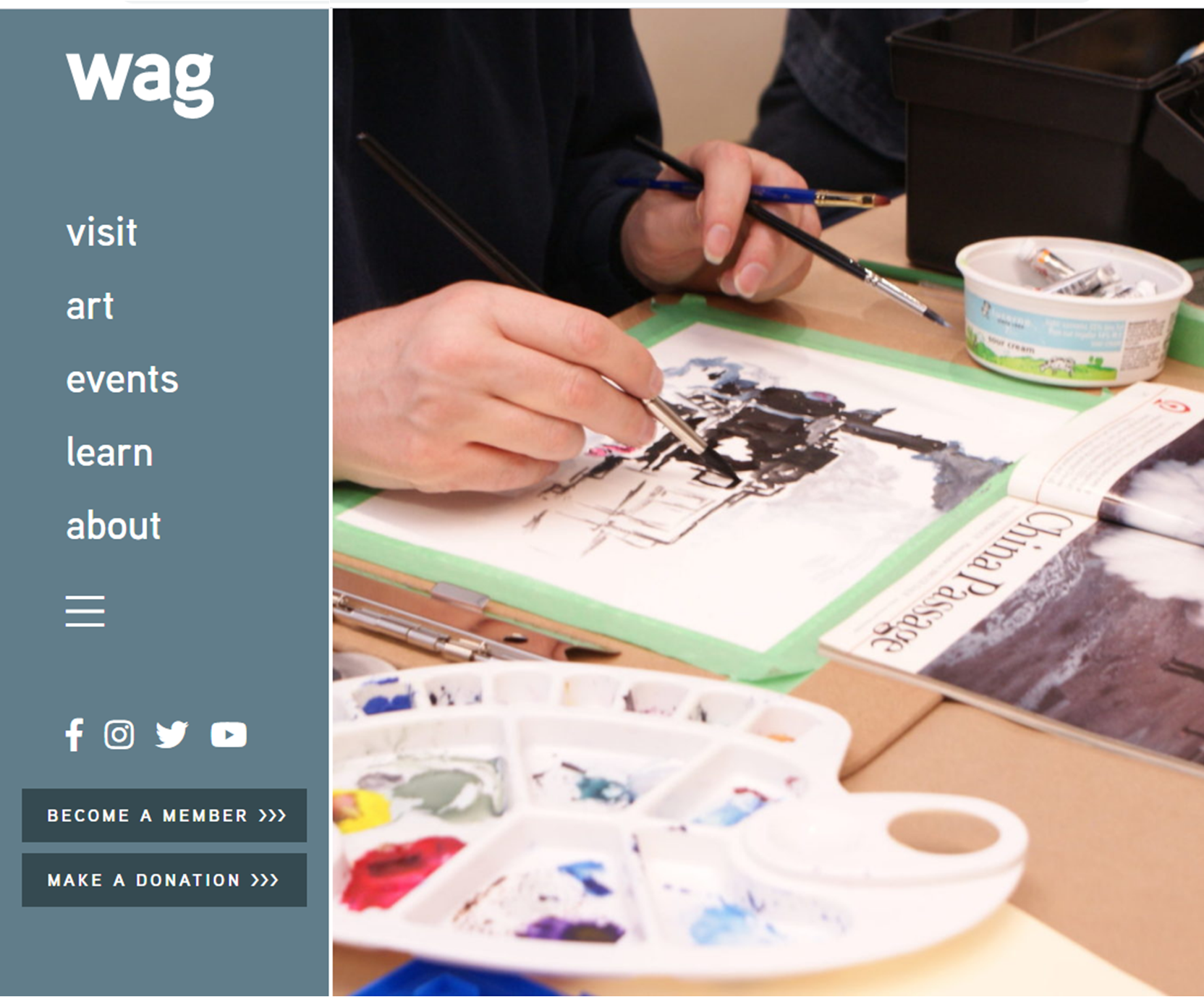 WINNIPEG – A truly unique experience! Students got the chance to take an art class with a professional artist at the Winnipeg Art Gallery (WAG).  This time, our activity was BOTH online and in person.  A small group of students was able to go into the WAG studios for the lesson, and the majority of us enjoyed creating our art at home, while watching the class online.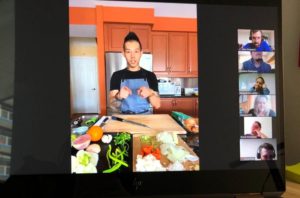 MISSISSAUGA – Chef Wallace, Top Chef Canada and Fridge Wars, demonstrated knife skills and ways to help prepare amazing meals at home!
   WINNIPEG – Keith Macpherson, mindfulness coach and author, lead participants through a group mindfulness session. Studies have shown that regular mindfulness practice promotes self‐regulation and empathy. It also reduces stress, anxiety, and improves attention and memory. The session consisted of an opening intention for the practice followed by a short‐guided meditation and reflection. We all discovered what it means to integrate and embody mindfulness practice in our daily life.

WINNIPEG – Heartland students and staff took a virtual guided tour of the Manitoba Museum's 1919 Winnipeg General Strike exhibit. The 1919 Winnipeg General Strike was a major event in the history of Winnipeg and the nation. Canada's largest strike, encompassing over 30,000 workers, took place in downtown Winnipeg and shut down the city on May 15, 1919 for 40 days. The Manitoba Museum's Urban Gallery, which was created to depict Winnipeg 1920, has been transformed as time is virtually rolled back to 1919. Using digital architectural projections of strike scenes, authentic artifacts from the Strike, photographs, archival interviews with Strike participants, and audio creations of "discussions" between Winnipeggers of 1919 populate the space. Find out more before our tour by watching this video: Strike 1919: Divided City 
WINNIPEG – We had an amazing virtual experience of our Journey to Churchill exhibit at Assiniboine Park Zoo.  This program introduced us to the 10 acre exhibit, including what animals you will find in it.  Our educator focused on the polar bears and seals that live at our zoo and highlight how these animals survive in the freezing Arctic.  It was so fun to learn about the animals in our province's north!

WINNIPEG – Shakespeare in the Ruins (SIR) is a professional Canadian theatre company that is best known for presenting Shakespeare outdoors in unique settings. For more than 20 years, SIR has specialized in creating accessible, entertaining productions in non-traditional settings, with a proud history of presenting both new plays, and old plays in new ways. We were very lucky to have SIR Artistic Director, Rod Beilfuss join us on Friday, May 8th for a lesson in Shakespeare plays, and a short performance!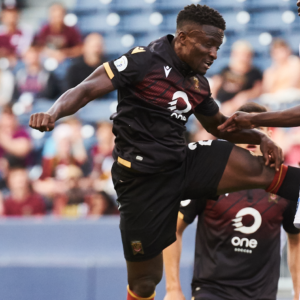 WINNIPEG – We had Head Coach Rob Gale and two Valour FC players join us for an introduction to Winnipeg's new professional soccer team! We got to see a little bit of the fitness routine the athletes are doing while quarantined at home, chat about the story of Winnipeg finally getting a Canadian Premier league team, and enjoyed some fancy footwork and soccer skills live with some of the teams best!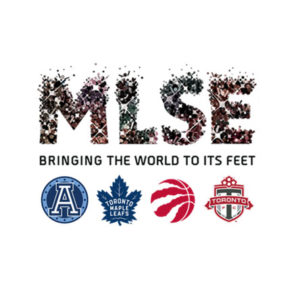 WINNIPEG AND MISSISSAUGA – Marc-Antoine Delannoy, originally from France, is now living in Toronto as the Account Executive in Sales for Maple Leaf Sports and Entertainment which owns some of Canada's biggest professional sports teams including: The Toronto Raptors basketball team, Toronto Maple Leafs hockey team, and the Toronto Argonauts Canadian Football team. It was wonderful to have him share his success story with us about how he started in ESL classes in Canada, and eventually landed his dream job!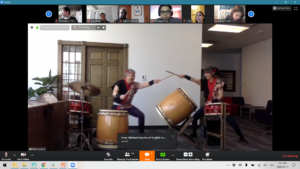 WINNIPEG – Hiroshi and Naomi from Fubuki Daiko gave us a live, high energy Taiko Japanese drumming performance!  They also taught us basic drumming techniques proper Japanese terminology.  What a great experience!
You can support the Winnipeg arts community by donating to Fubuki Daiko at www.fubuki.ca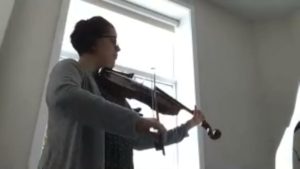 WINNIPEG AND MISSISSAUGA – Marie-Elyse Badeau, a member of the Winnipeg Symphony Orchestra, performed virtually for the Heartland audience, live from her apartment on the afternoon of Friday, April 3 and answered questions from students. Although nothing can replace the feel and sound of an in-person experience, given our limitations these days, the quality was very impressive.
Over 70 Heartland students and staff went online and "joined" Badeau in her living room to take in a range of beautiful pieces. Taking her audience on a journey from the familiar Baroque period and Bach to Schubert, through Italy with Puccini, to Russia with Tchaikovsky's Swan Lake, and on through the post romantic era, introducing us to Rebecca Clark and her sonata for Viola, Badeau supplemented the music with short lessons about her instrument and how she uses it to bring about such amazing music. FULL STORY HERE
See a few short videos from our previous Heartland Online Activities!