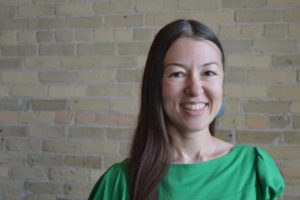 TEACHING PHILOSOPHY
I believe that learning new things is one of the most enriching parts of life, especially the challenge of learning and communicating in another language. You don't just learn new words, but also a whole new way of seeing the world. I aim to create a fun interactive classroom where students can learn English in a relaxed and supportive environment, with lots of opportunities for practice and questions.
HOBBIES AND INTERESTS
Linguistics was the perfect major for me at university because I love anything to do with language! I know what it feels like to be a language student because I've tried (unsuccessfully) to learn to speak several languages, but so far I've only been successful at learning Spanish (but there's always more to learn!).
Spending time outdoors in nature is one of my favourite things to do. I look forward to summer when we can grow fruits and vegetables in the garden in our backyard.
Travelling is another love of mine and I've had the pleasure of visiting Portugal, Japan, Guatemala and Mexico. I hope to take more trips in the future because I love seeing new things and learning about other cultures.
I also really enjoy spending time with my fiance, family and friends, laughing, eating, walking, reading about health and nutrition, taking photos and working on my family tree.
TEACHING MOMENTS
I'm so proud of and excited for all my students who are here on an adventure in Canada learning English. I know this will be a very memorable experience in their lives and I feel privileged to be a part of it. One of the things that I love about my job is forming friendships with my students and learning about their cultures. I enjoy watching my students improve and celebrating their successes with them. It's always so exciting to hear students use language they've learnt in class in a natural way!